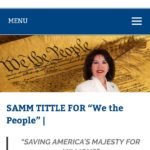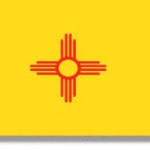 "When Samm becomes President, The U.S. Constitution becomes President!" -Samm Tittle
Congratulations to New Mexicos Majority Winner " 2nd Amendment" Samm Tittle for President of The United States! Independent Constitutionalist Samm has run for President in 2014 & 2016 for the Republicans who were not ready or willing to have a Woman Hispanic Christian Constitutionalist as The Commander & Chief. Samms Hispanic American Heritage has been in New Mexico since the late 1600's, taught at UNM, helped build Old Town Abq. and even honored at The Capitol in Santa Fe. Samm was raised in El Paseo, TX and has worked as a staunch Constitutionalist in the Washington D.C. area. Samm has both borders covered as she speaks Spanish & French!
Samm and the Voting Members of CPNM twice affirmed with NO Objections CPNMs own Chairman Elect, John Wagner (JW) to be her Vice President of The United States!
This is New Mexicos critical opportunity to have direct Christian Constitutional reputation at The Top of The Executive Branch and be the First State in History to give its Electoral Votes to a Christian Constitutionalist Minor Party!